Bathroom Sinks – Lavatories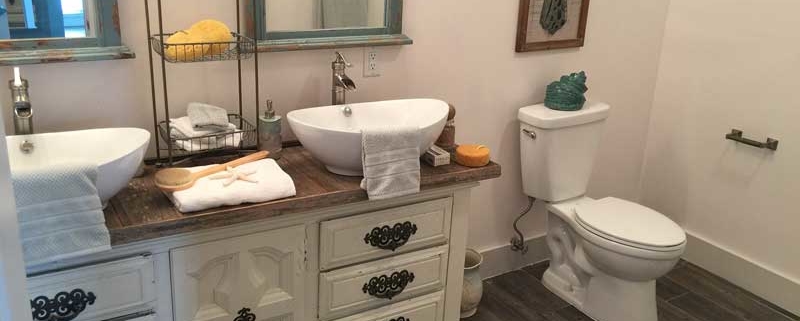 Lavatories
A lavatory is a washbasin or sink located in a bathroom or washroom.  "Lavatory" means washbasin or sink, and is derived from the Latin word lavatorium, which means washing vessel, and the French word laver, meaning "to wash." Lavatories come in a variety of shapes and sizes.  They are available in enameled cast-iron, vitreous china, stainless steel, porcelain-enameled formed steel, plastic, and non-vitreous ceramic.  They can be wall-mounted, hanger-mounted, under-mounted, pedestal, rimmed, and above-center basin types.
Countertops integrated with lavatories are constructed of a variety of materials, including ABS, PVC, gel-coated fiberglass-reinforced plastic, acrylic, polyester, and cultured marble.  Plastic vanity tops should be impregnated with fire-resistant chemicals to reduce the fuel contribution of the lavatory during a house fire or the accidental fire from a plumber's torch.  They are also made to resist the effect of a burning cigarette left unattended on the vanity top.
Lavatories should have a waste outlet of at least 1-1/4 inches in diameter.  Each lavatory must have a strainer, a pop-up stopper, a crossbar, or other mechanism to prevent items such as rings, toothbrushes and cosmetic items from dropping into the drain.
Lavatory Overflows
Former standards required lavatories to have an overflow, but that is no longer the case.  The overflow is now an option of the manufacturer.  The reason for not requiring an overflow at a lavatory is because of the lack of use of the overflow, which can cause bacterial and micro-organism growth.
Where a lavatory does have an overflow installed, the cross-sectional area of the overflow should be a minimum of 1-1/8 inches; anything larger can promote bacterial and micro-organism growth.  The overflow should be able to prevent overflowing of the sink for a minimum of five minutes when tested from the onset of water flowing into the overflow's opening.
Maintenance Tips
There are many different designs of lavatories, including artisanal styles that sit up on the vanity, rather than being dropped into a recessed cavity in the vanity or countertop.  Regardless of the style or whether it includes an overflow opening, the washbasin should be securely attached to the vanity, be free of cracks and other defects, and have gaps that are properly caulked to prevent moisture buildup, which can lead to unsanitary conditions, including mold growth.
https://www.certinspectnc.com/wp-content/uploads/sites/32/2017/09/home-2338258_1920.jpg
600
800
raefordnc
https://d3bfc4j9p6ef23.cloudfront.net/wp-content/uploads/sites/32/2018/09/25175004/Fayetteville-Home-Inspector-300x222.png
raefordnc
2017-09-12 21:22:08
2018-12-13 20:40:39
Bathroom Sinks – Lavatories